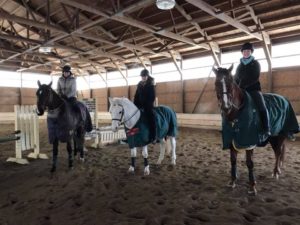 Winter has arrived with a vengeance! What winter clothing should you wear to the barn?
How many times have you not been able to feel your fingers and toes in the last two weeks? How many times have you wondered why you don't live in Arizona in the last two weeks?
As much as we want to wish the cold away, all we can really do is be prepared, especially with our winter clothing. Whether you're at the barn every day in the winter or just going for a weekly lesson, here is our advice for what to wear.
The name of the game is LAYERS: you will take some off and put some back on. But the key is to have many of them.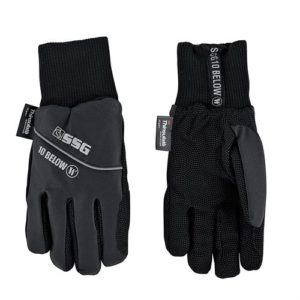 First of all, make sure you have your toes and fingers as warm as possible. Smartwool socks or ski socks inside insulated boots are great. And SSG makes many options for awesomely warm, long-lasting winter gloves. You can find a ton of options at Dover.
Start with a base layer—top and bottom—of long underwear. There are some great thin layers that easily fit under riding pants in both synthetic and silk. REI or LL Bean carry good options.
Riding pants—a few brands make of insulated riding pants, or you can get breeches a size bigger to fit a few layers underneath. There are some good options at Dover Saddlery. Snow pants can also work will in frigid temps as an outer layer.
Insulated boots: you can find both insulated tall boots and insulated paddock boots. Ariat makes several options.
On top of your base layer, you'll want a shirt, wool sweater or warm mid-layer (smartwool makes some great ones) jacket, like the Craft Back Bay Farm jackets!
We recommend a down or insulated vest next, as when you're riding you may peel down to this layer. It will keep your torso warm while letting some heat out so you don't get too sweaty (and then cold afterwards)!
On top of everything you'll want a warm coat. There are coats by horse-oriented brands like Dover, or you can find great options at any outdoor store like North Face.
We also suggest a scarf or neck gaiter you can pull up over your mouth and nose, such as a Turtle Fur, and last but certainly not least, a warm hat or ear-warmer to put on when you are not wearing your helmet!
As always, check out The Equestrian Shop in Ipswich for all of these winter clothing recommendations. We know they carry most if not all of what we have suggested above. We hope this bitter cold ends soon but even if it doesn't, at least we'll be dressed to make the best of it. Happy New Year everyone!